April
It's always nice to see teachers meeting with their children of various ages in school. This time it was the turn of Fatima, Mr Bakary Saidy's daughter to look a little nervous in front of the camera.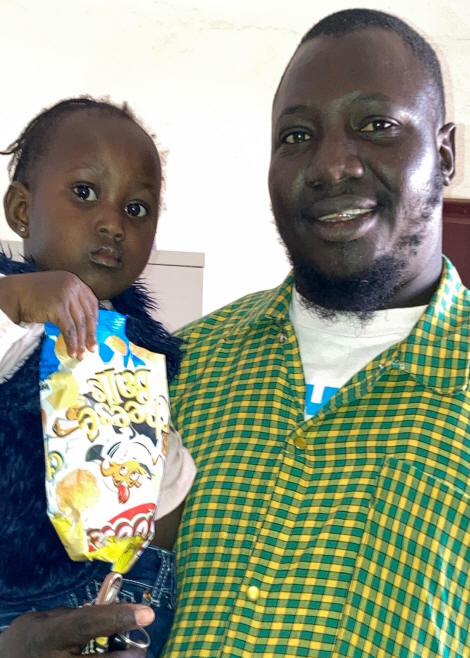 It's normal practice to have a good sort out when trustees and volunteers arrive at Sunrise. For obvious reasons it's been two and a half years since our last visit, during which time lots of junk has collected at Sunrise. Tony has been quite maverick in throwing things out to give us space in our storage areas. Sorting out the chairs that can be repaired is just part of this.
A donkey cart is still the mechanism needed to take these things away to the rubbish dump.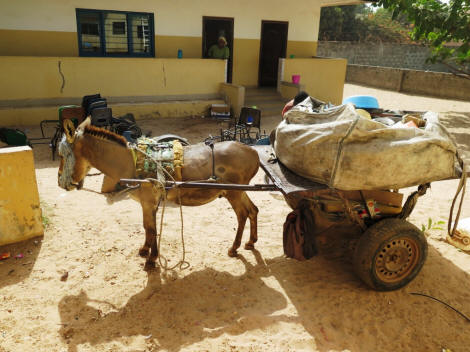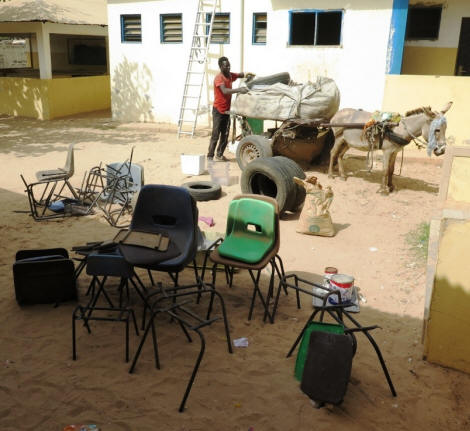 Our Cookery room in the bantaba is used for all sorts of activities. Under the direction of Ida Cham the picture shows students using the room for various important tasks.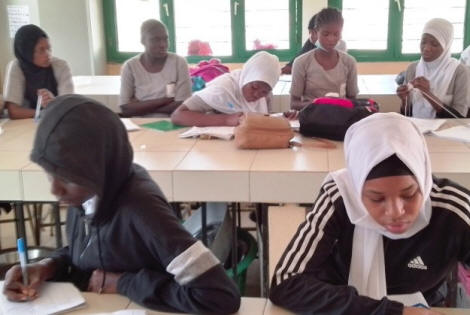 We caught this picture of School Cook, Susan Jarjue, in the kitchen preparing breakfast for the students and staff. She does this every day.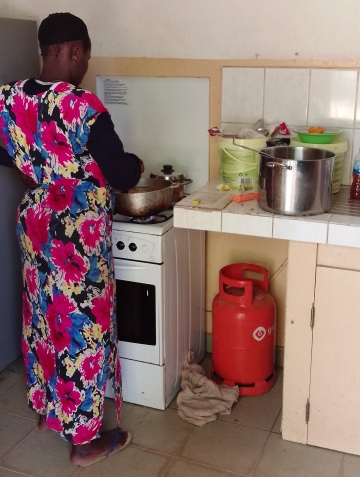 Our planted garden produced quite an interest from local (passing) goats. They managed to get into the school so we are now improving our broken garden gates to keep the goats from eating our produce. The welder man is a friend of LB6 teacher, Mr Omar Gaye.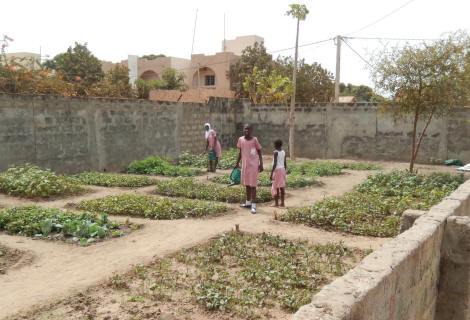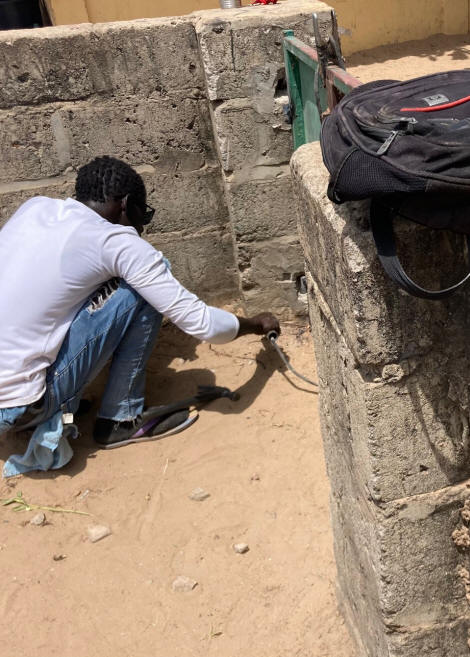 The welder man has also been used utilised for many other small jobs, including mending broken chairs. Our stock of chairs were probably 5 years old when brought here from a South Wales school. We've used them for nearly 10 years now!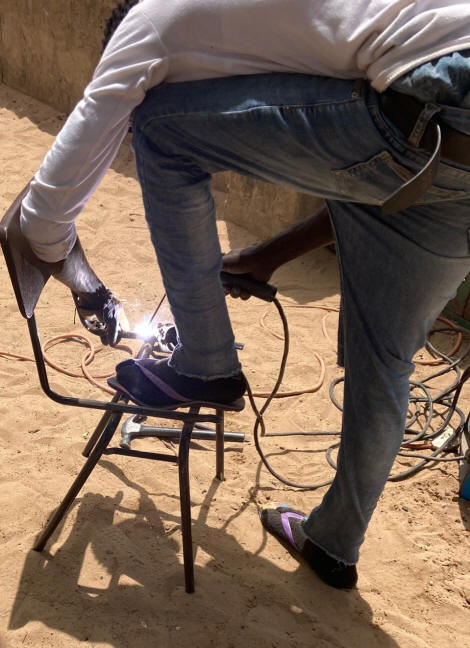 Our toilets have a busy life and do suffer a lot of wear and tear. This time we had a Skills toilet that was well beyond economic repair and had to be replaced by Omar. This is obviously quite a drain on funds.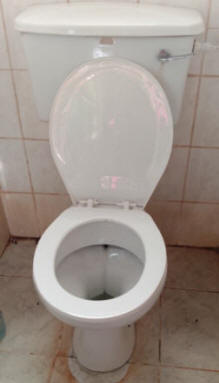 Another task that was more complex for our welder man was the repair of the broken playground equipment. Climbing frame and see-saws were all repaired and repainted in a busy couple of days.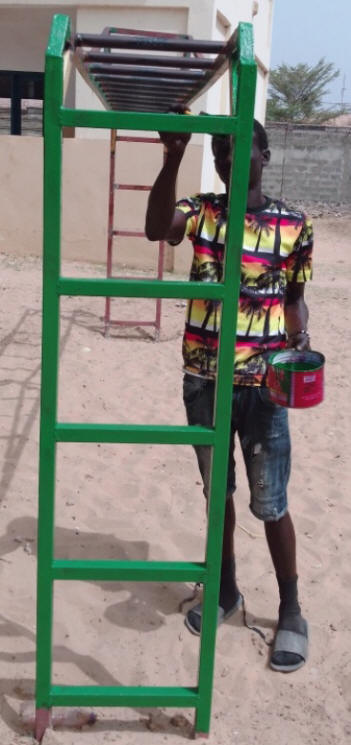 Omar Gaye helped with this since his first job was as a welder and our welderman was his student!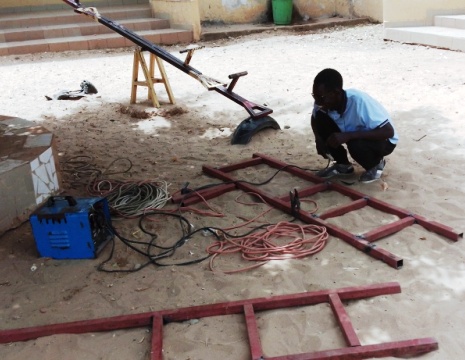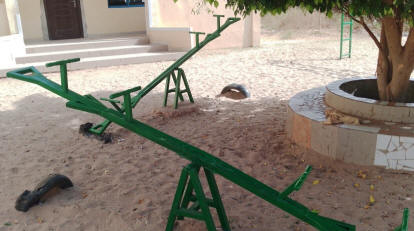 The children were very quick to test the strength of the new equipment.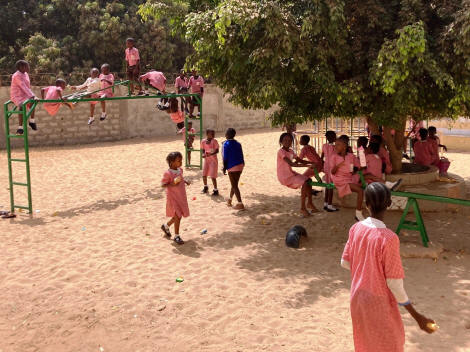 We are really grateful again to our Dutch friends; Rudy and Yolanda Nachtegaal. They have collected resources for us, as they've done for many years and brought them to top up essential office supplies with things we couldn't easily buy locally and saving us money too, of course. They also brought toys for Nursery, clocks and jigsaws too.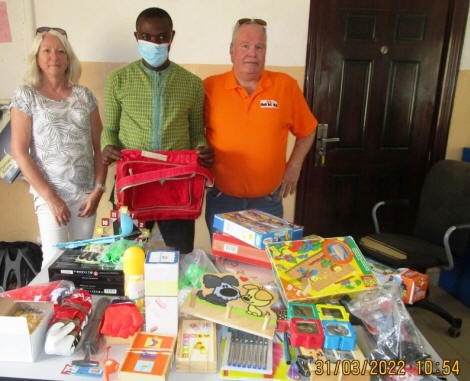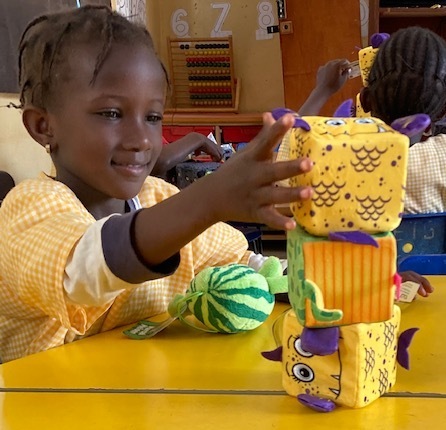 We took pictures of Yolanda inspecting the sewing machines that they'd help to fund, beneath trees that that they'd planted and a rare picture of Helen receiving cash from Rudy. Thank you so much.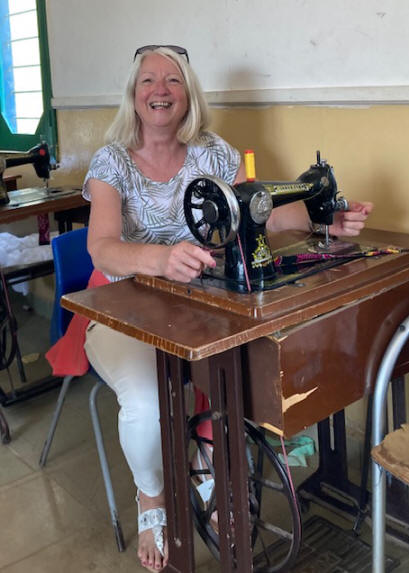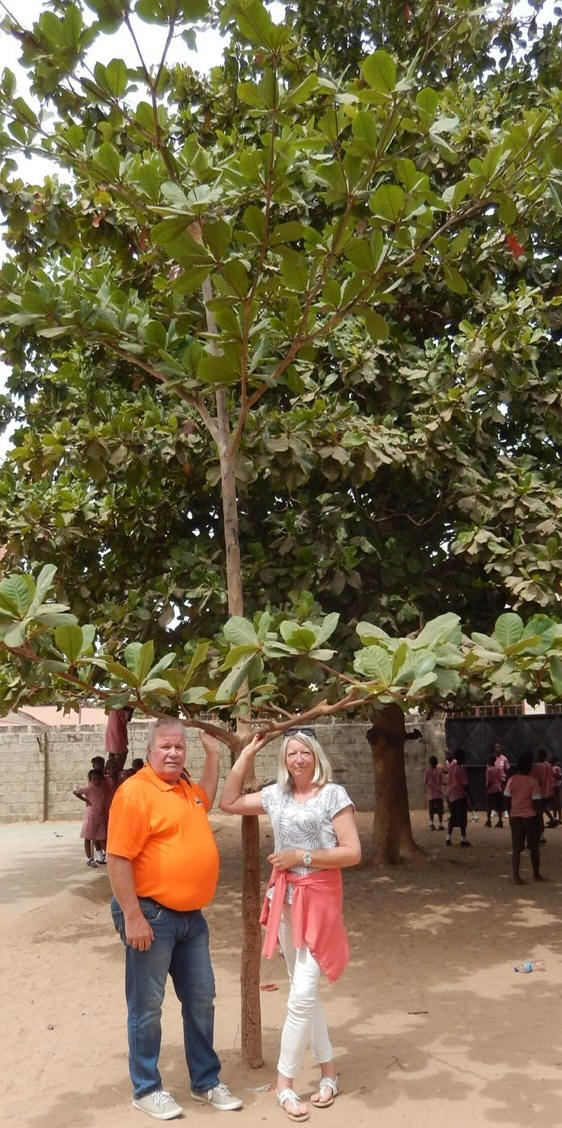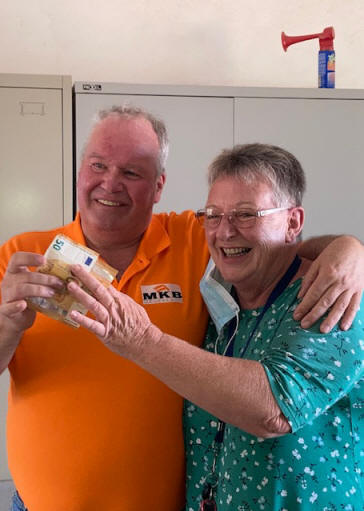 March
One of the simplest ways to make patterns when dying cloth is to paint patterns with flour, then dry it to limit the take up by the cloth during the dying process, known as Cursi design. Mr Darboe is pictured instructing students before letting them loose on their own designs.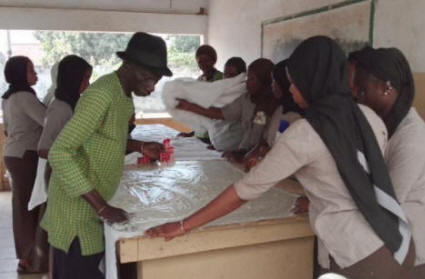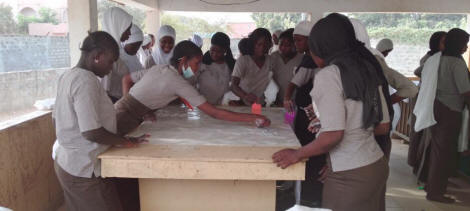 Cloth is left to dry before applying the dye to the fabric and drying again on the lines within the school.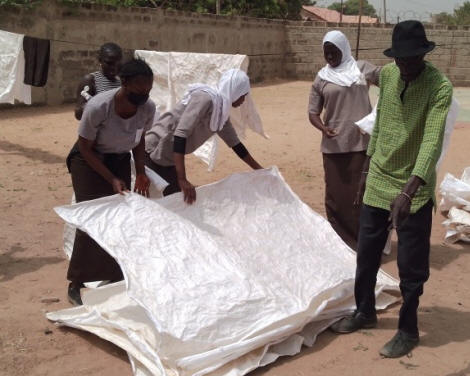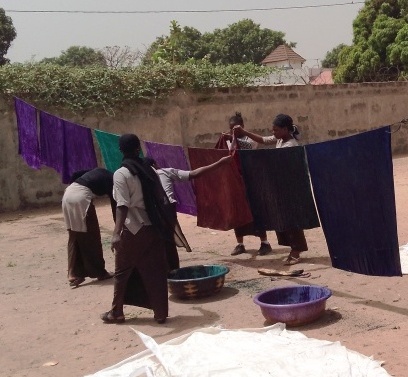 As with all schools, it is really important that the children use up much of their energy playing within the playground. We are in the process of improving our broken play equipment but nursery children are still finding new ways to use some of this equipment!

End of term assessments happen throughout the school with varying challenges, of course. The pictures here show children from Nursery 1-3 preparing for the challenges set for them.
Nursery 1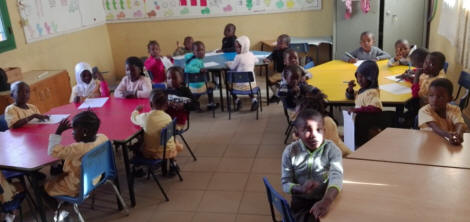 Nursery 2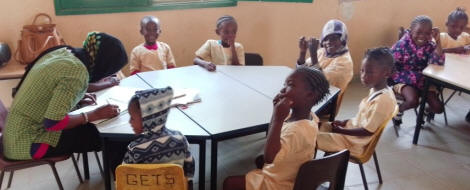 Nursery 3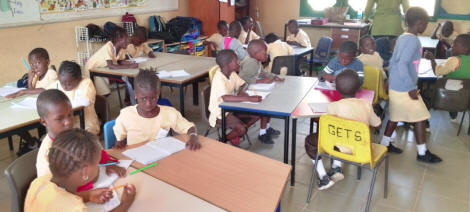 We use paints to allow children to express themselves artistically. The small picture shows one of the boys from Nursery doing just that.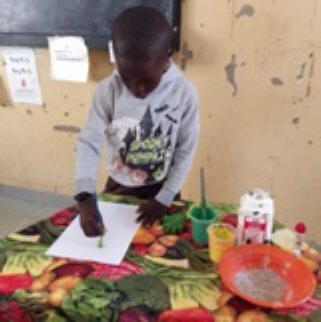 We've acquired some more footballs, thanks to money from supporters. These are always welcome in school for break-times. Thank you.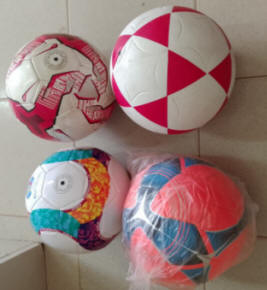 Our DIY expert, Omar Budjie has been heavily involved with us again. He is putting a new tap in to extend our Lower Basic stored water supply to the kitchen area. This allows us water for cooking and toilets when the water company water pressure is too low to come out of the taps. Sadly this is quite normal.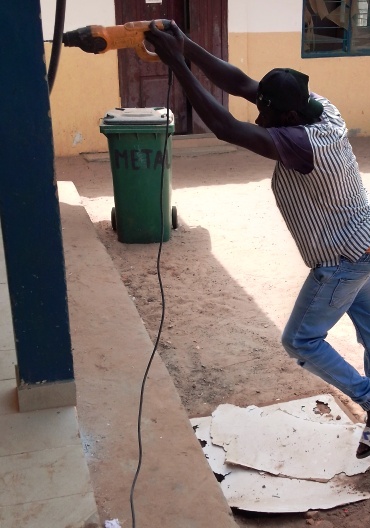 Omar has had to fit a new drain (soakaway) to take water that is spilt using the new tap, near the kitchen.
Students from schools outside of Sunrise (our external sponsorships) continue to bring in report cards from previous terms and ask Sulayman to write cheques for their next school terms.
The picture shows Isatou A Jallow, who graduated from Sunrise after G6 and is now in G10 at Ndows Senior Secondary school.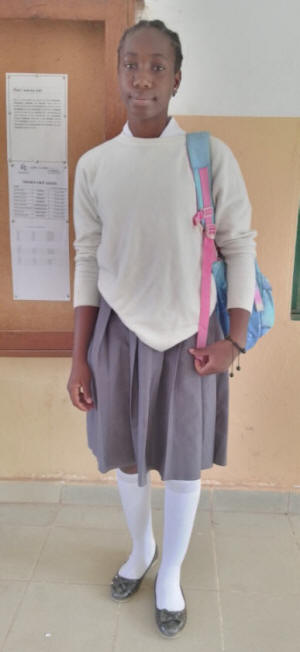 We regularly have a visit from our sewing machine expert, Musa Camara. Musa puts right all the errors introduced by the skills students, who often tend to try to adjust things that they shouldn't!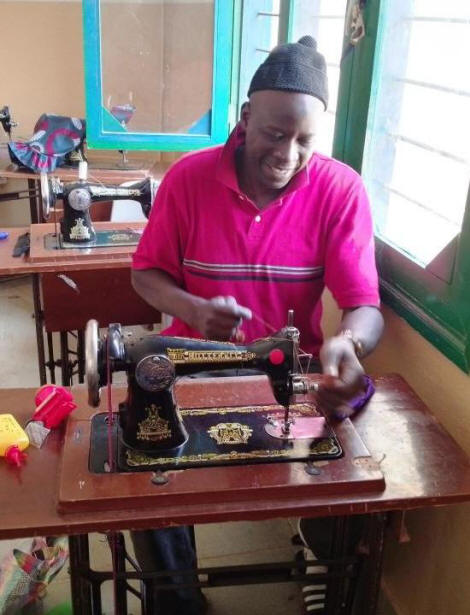 It's great to see proud students in their "creations" from the sewing room. Skills 1 are here showing the dresses they have made this term.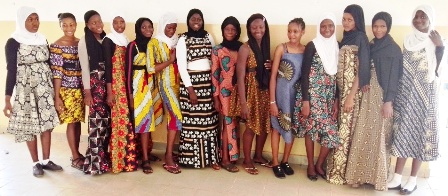 This time the girls from Skills Year 2 are showing their work.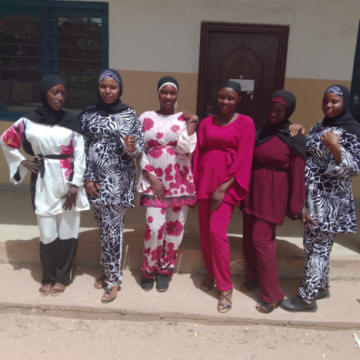 Skills Year 1 have also been posing in a broad range of materials that they've used to create garments in sewing.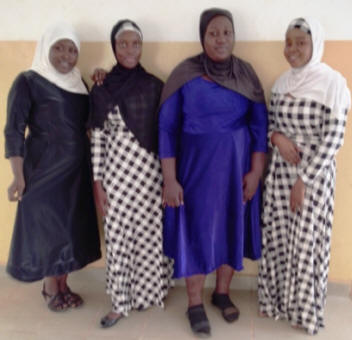 We were delighted that Momadou Lainey from First Aid 4 Gambia visited us to bring some really useful resources.
Momadou (Masked), with Tony and Alkali are shown below receiving gifts of aprons, note pads and folders.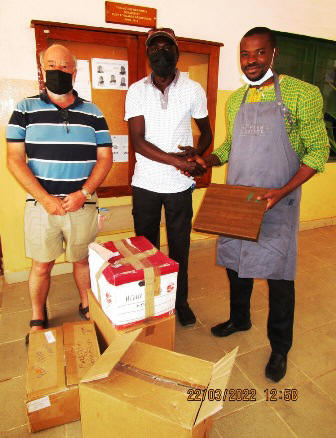 Here are 3 of our Skills 2 students using the aprons, in their cooking class. It is great to get this help from Bill Nelson, who runs First Aid 4 Gambia, see them on Facebook.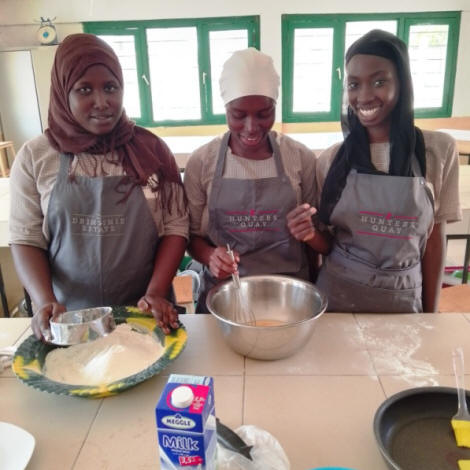 We have some real characters at Sunrise; one is definitely our cook, Susan Jarjue. It's not at all unusual to see people in Gambia carrying all sorts of goods on their heads but probably only Susan would carry a bottle of water to drink (note no lid!) across the hall. What a skill!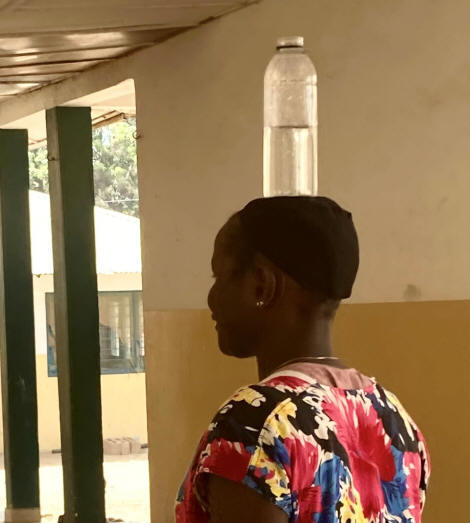 February
An important set of visitors arrived in mid-February; NAQAA auditors, coming to inspect the processes and facilities at Sunrise during their annual audit, This is part of our license conditions to run a Skills Training Centre.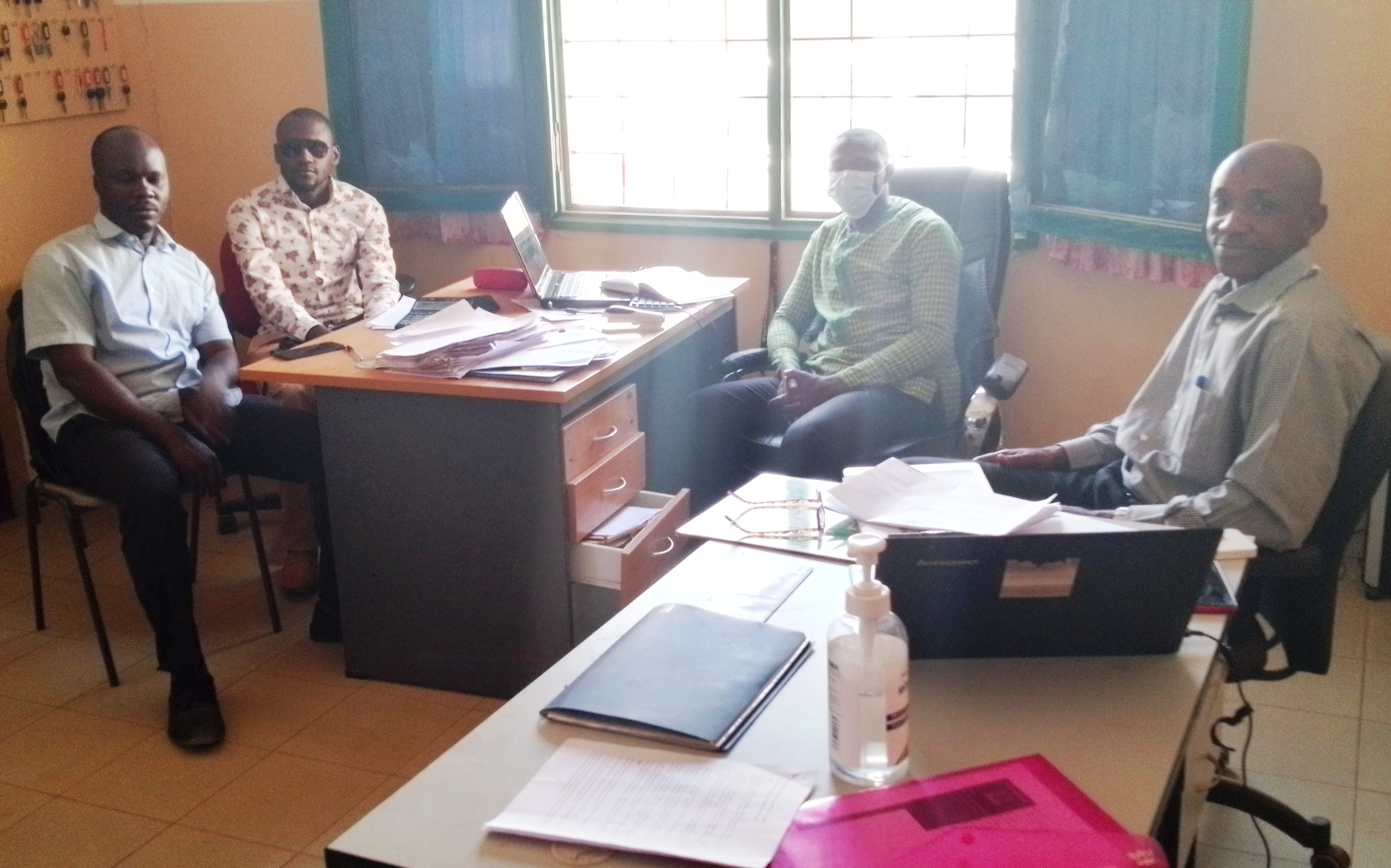 They looked at the classrooms and all around the facilities of the training centre.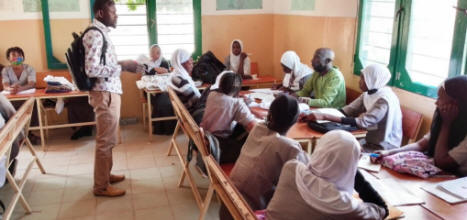 They looked at schemes of work and lesson planning and asked many questions of our teachers and office staff.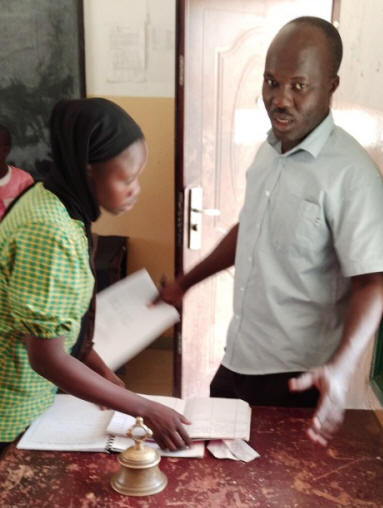 It's great to see the garden productive again. Mr Gaye (LB 6) is enthusiastic in growing crops and keen to teach the pupils about this important topic.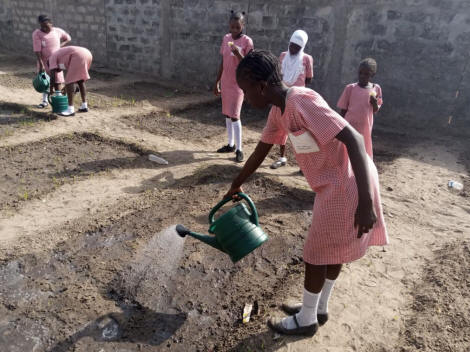 Children can be seen by the planted beds, tending the new crops and the bountiful harvest of the first lettuces.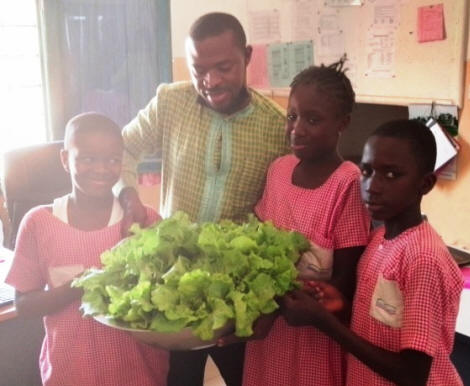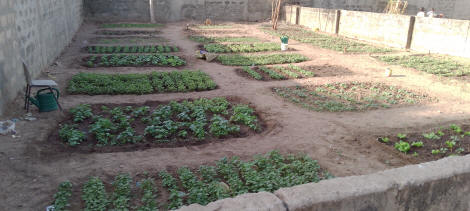 We've had the usual maintenance issues again, this time with a broken stand pipe. Repaired by our faithful plumber (with many other skills) Omar Badjie.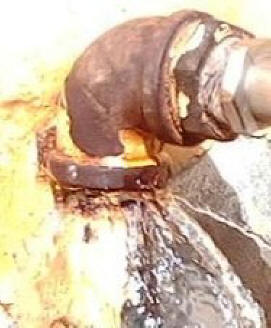 We've captured the usual classroom pictures in this month of children busy in the process of learning.
Nursery 1

Nursery 3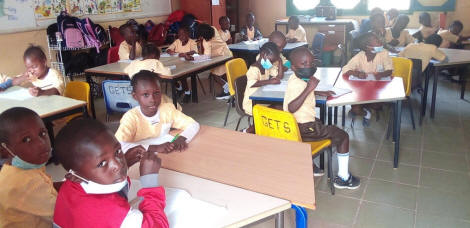 LB 1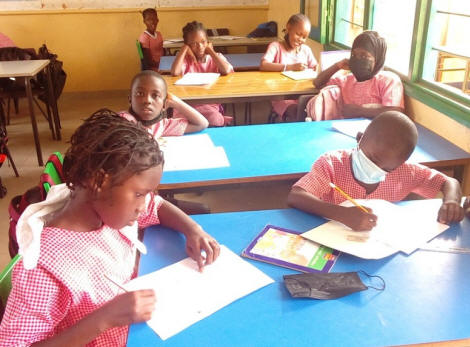 Our Cook, Susan Jarjue is seen carrying the big bag of bread that she has delivered each day to feed the children in school. Nursery have a free breakfast but others pay a little money.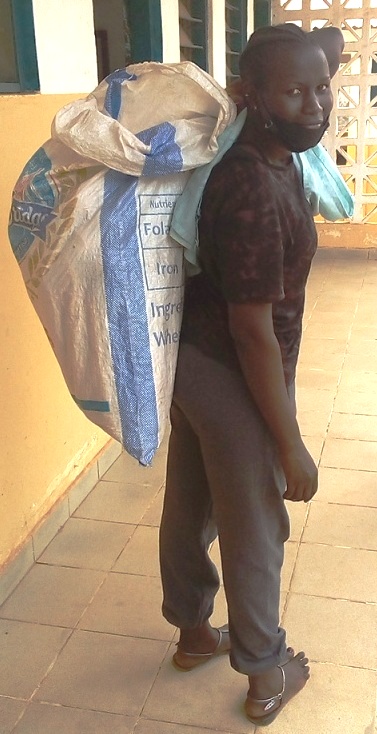 In cookery, our new Skills Training Teacher, Ida Cham, is working with students to make meat pies, as part of their curriculum.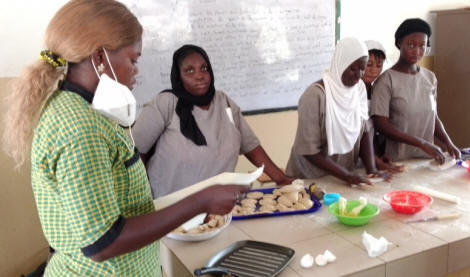 January 2022
Another calendar year started in Sunrise with a Fire Drill. The teachers were primed but it was a surprise for pupils and students who all filed out in the Entrance way. An important process that all need to understand to stay safe. We've practiced this for many years.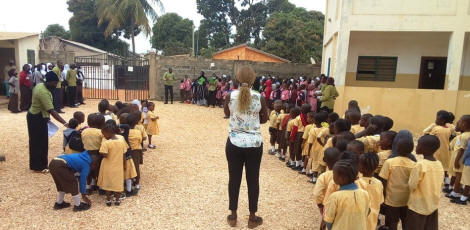 Children were keen to get back to playground activities afterwards.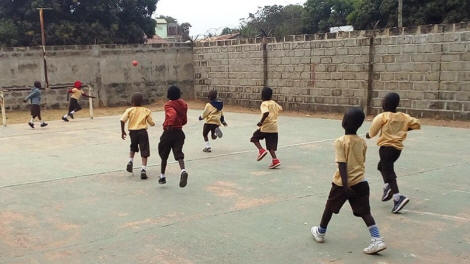 As part of our regular photo session, Mr Sulayman Saidy snapped a picture of most of the staff in the hall.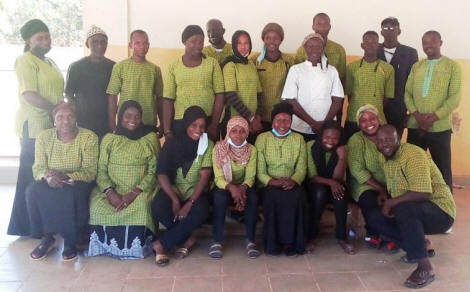 LB 5 are pictured with Mr Bakary Saidy, working hard on their Integrated Studies class. It is this group that will be tested at the externally marked National Assessment Test (NAT) this year. Their entry is made and the exam likely in June.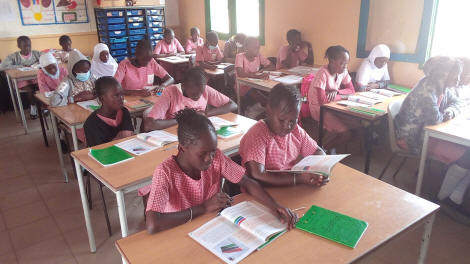 On the other side of the classroom some boys are showing how Gambians feel the cold when the temperature is only in the low twenties.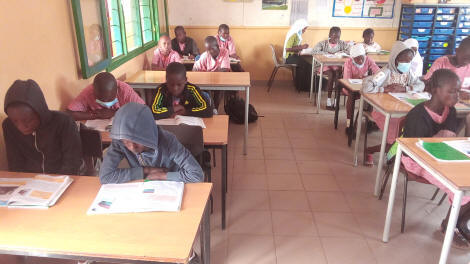 Mr Saidy-Khan (seated at the back of the class below) leads our Quranic Religious Education class who study the Arabic script to learn to read and understand the Quran.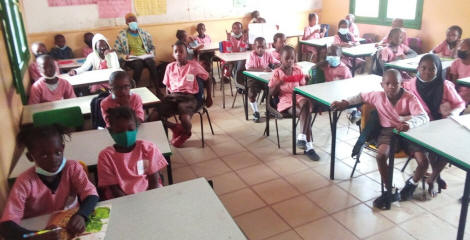 A busy LB 3 class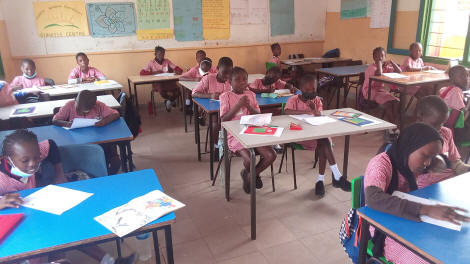 LB 4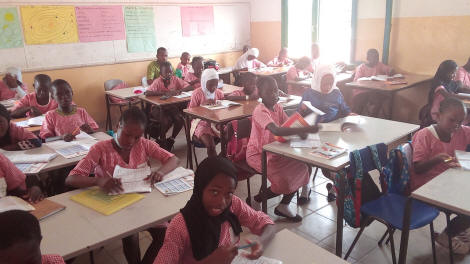 We accepted some lovely cookery books gratefully from supporter Sue Monk. Helen brought these in to improve the Library, run by Sainabou Sambou (pictured).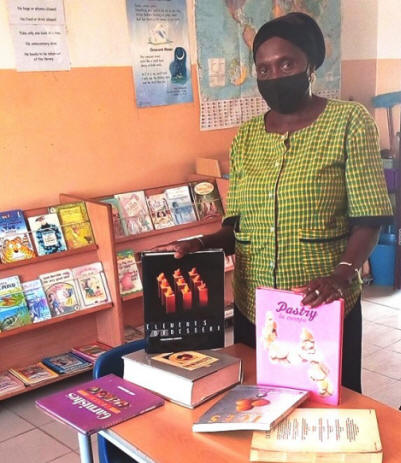 We also caught a picture of Sainabou working to improve some of LB 1's reading skills.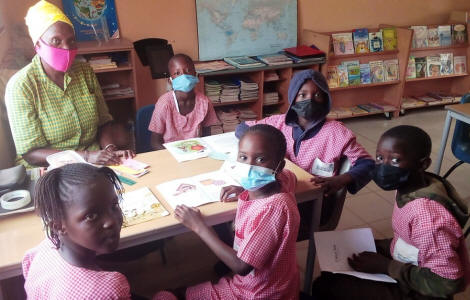 Nursery 2 concentrating on their work.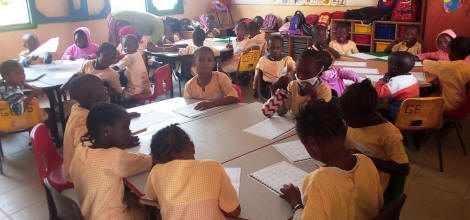 Mr Gaye (our new LB6 teacher) had some of his friends pop in to see him. These are some of the few visitors to the school this season. Eva Jonsson and Annika Jakobso, both teachers from Sweden, enjoyed coming into The Sunrise Centre. They have been observing and helping Mr Gaye improve his skills for many years, during their routine holiday visits to The Gambia (pre-Covid).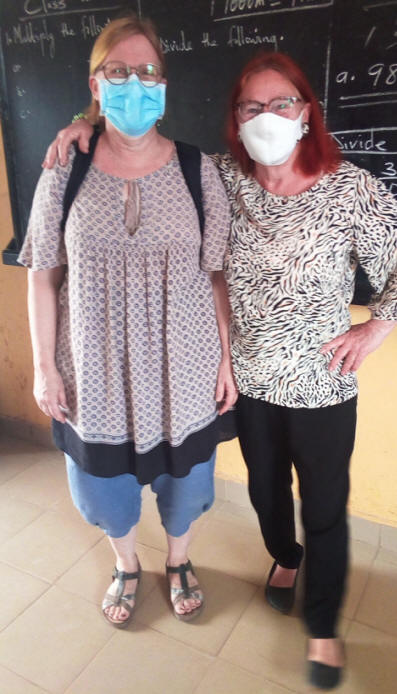 Skills Training doing Maths with Mr Gaye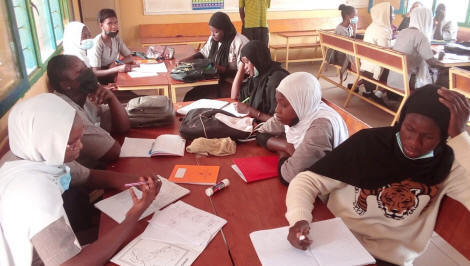 Outside the classroom LB6 are doing a science lesson to understand about changing liquids into gases, by boiling water.