December
We had 3 new qualified Lower Basic staff begin teaching at Sunrise in December-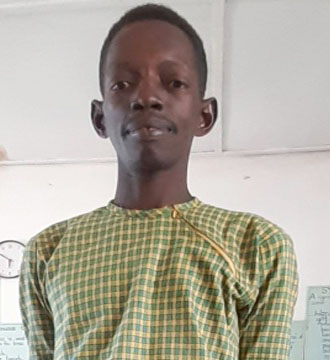 Omar Gaye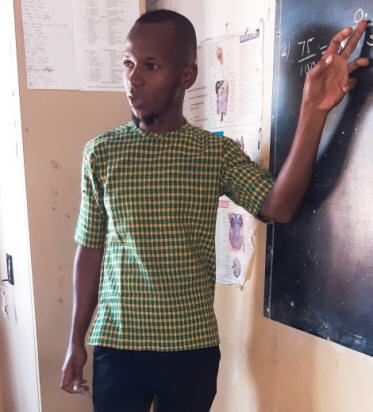 Adama Jallow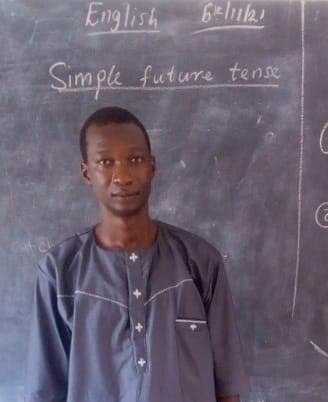 Bubacarr Jadama.
We have to thank Mr Jadama, who is currently helping out in Skills teaching English and Maths to students until we find a new teacher for that class.
Mrs Ida Cham also began teaching our Skills Cookery and Pastry course.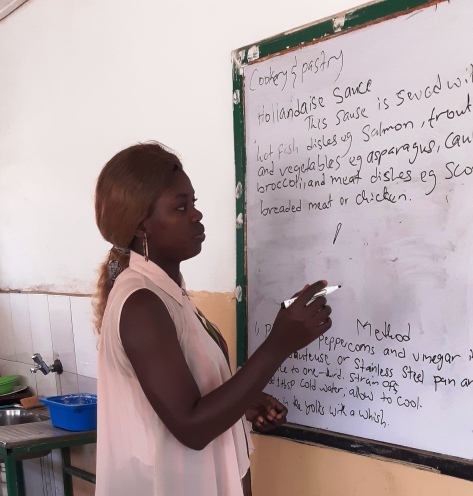 Qualified staff are very hard to find and we are delighted that they've joined our staff. This followed other staff moving onto new projects and roles (Mr Ousman Jaiteh, Mr Sulayman Jobe, Mrs Fatou Cham and Mrs Alimatou Jammeh). We wish them all well.
We've also had a new cleaner start; Binta Kinteh. All this staff change-over has meant a lot of extra work for office staff sorting out interviews, contracts, payroll and other essential administration.
We finally had our June 2021 National Assessment Tests results (NAT) for Lower Basic Grade3 class come through. We lost time at the start of the school year that we never caught up again, so results were down a bit on normal expectations. We entered 30 pupils and 25 passed (83%). These results have been further broken down by girl/boy and subjects to show that our biggest problems were within the boys taking Integrated Studies.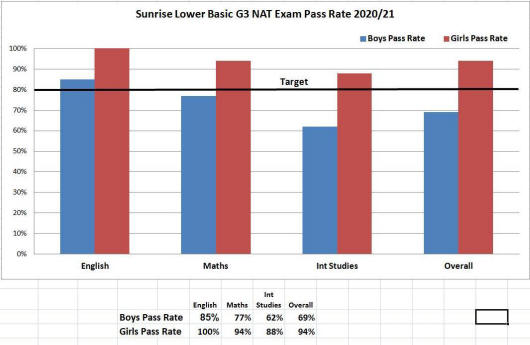 We still have quite large bills for maintenance of our school, some parts now more that 10 years old. This Christmas break we will replacing another classroom door. At £250+ each time, this is quite a load for the charity. This is the third one seriously damaged due to frame and door snagging and peeling back the door skin.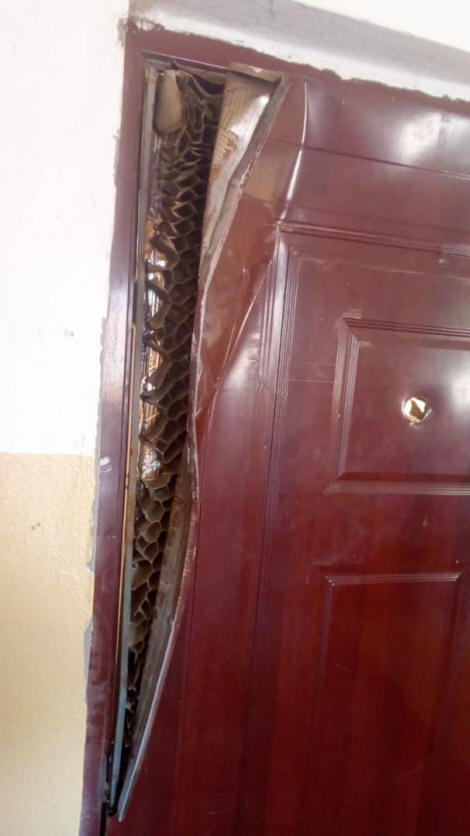 Mr Cham (Education Director) was delighted to show off another member of his family; a baby girl. Mum and baby are both doing well.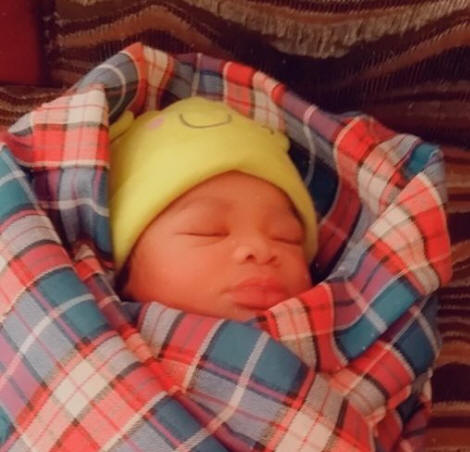 Chris Humphries contacted me with an idea to update the playground footballs and tennis balls, following feedback she'd had from a teacher. The local staff were dispatched to buy extra equipment and ball games could restart. Thanks Chris!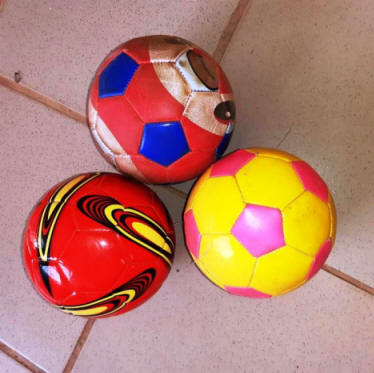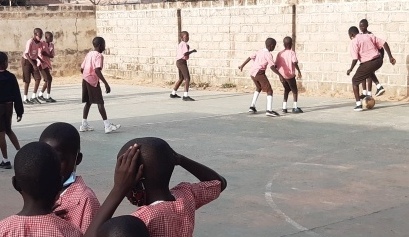 Lower Basic 1 have been drawing Christmas pictures again this year and we had to choose a winner from some good entries. The Father Christmas (Santa) from Alasana Sanyang and the Christmas tree from Muhammed Camara were both lovely but the winner with the Christmas present with the brightest colours and careful writing was used on our GETS Christmas Card this years, from Fatima Bah.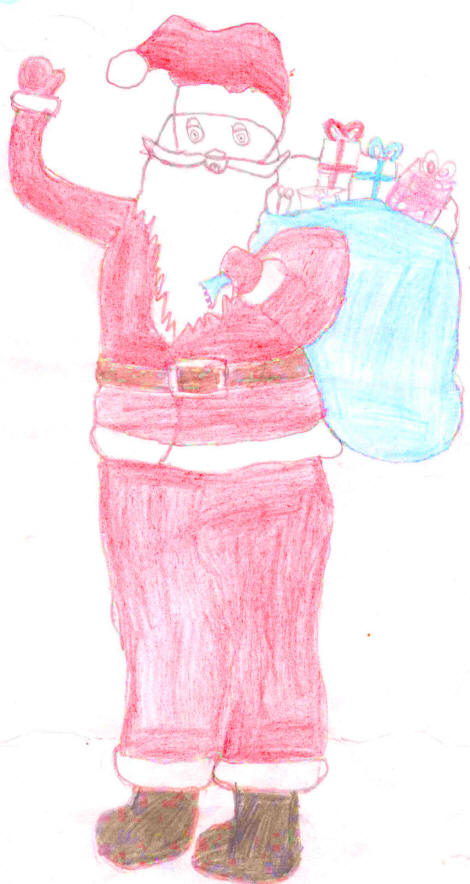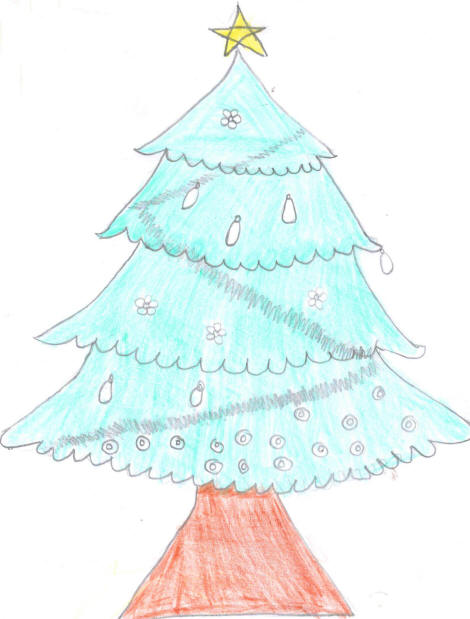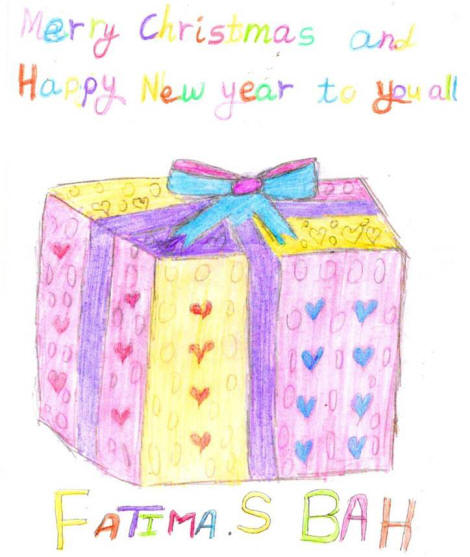 Merry Christmas and a Happy New Year to all!
November
Skills Training year 1 have been starting their new term in Sunrise by working in the Bantaba on cookery practical work. They join the school from many different backgrounds and early work is about finding out common knowledge before building on this. School life can be quite a change to some, who may have been outside of education for a while.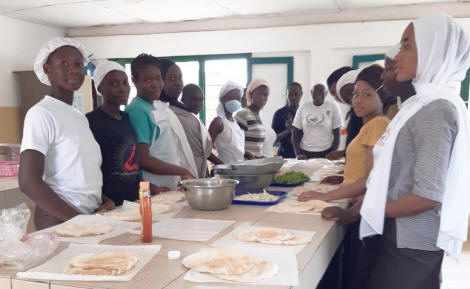 Skills Training year 1 have also been getting their first taste of practical work with the chemicals in Tie and Dye with Mr Darboe instructing. They will have understood the health and safety issues involved of course.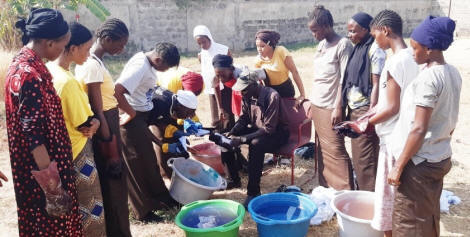 Two Skills 1pose for a picture with their first work drying on the line beside them.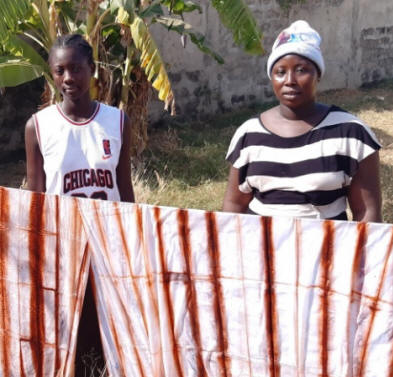 The more experienced Skills 3 have also been doing tie and dye work.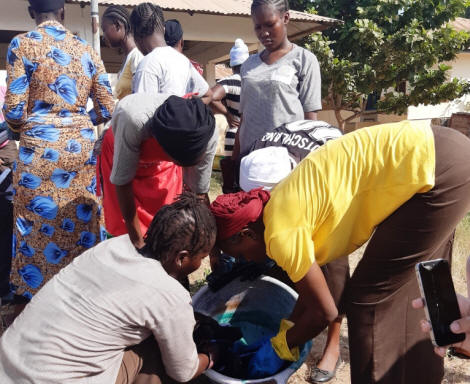 We've had another initiative by the WHO who bring vaccinations to Nursery pupils for polio as the world continues to stamp out this horrendous virus. There have been recent breakouts in Africa, apparently.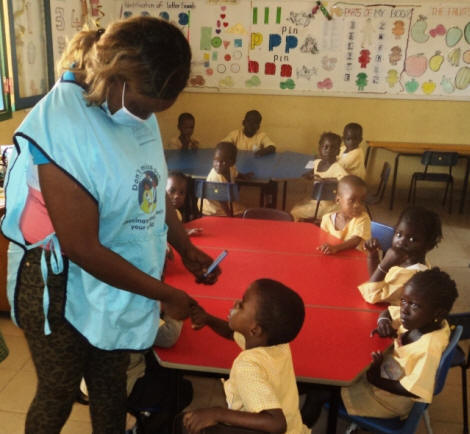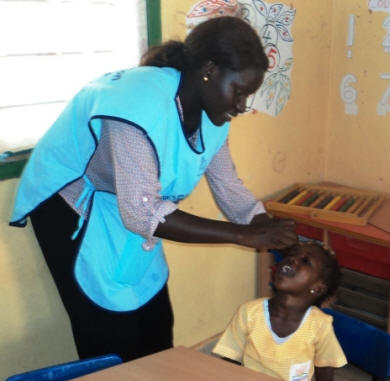 Skills Year 2 have completed some of their practical work in tailoring and were delighted to pose wearing it!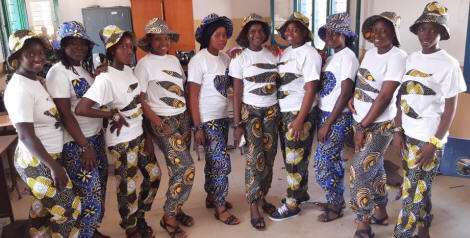 Skills Year 3 have been working on cookery practicals in the Bantaba. This time making spaghetti bolognaise.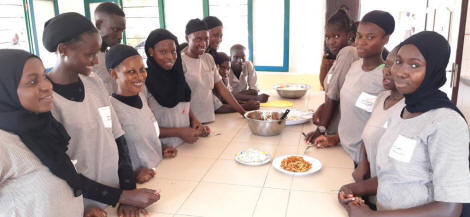 Our hall area is really important for many reasons. Today it is a design table for batik practicals!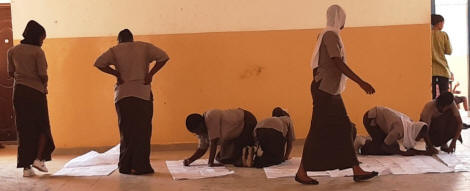 Elsewhere in Sunrise the students from Lower Basic are enjoying letting off steam at break-time. Essential!.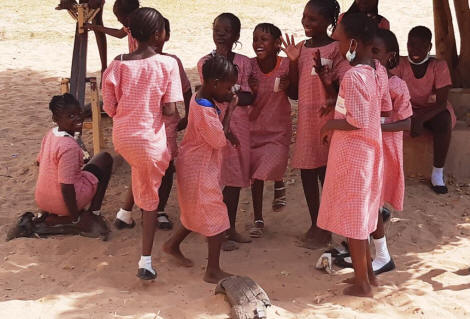 Every year we have a Mufti day to raise money for school funds. Children pay a small fee to come in without uniform, usually coming dressed in clothing that represents their tribal background. The best dressed often wins a prize.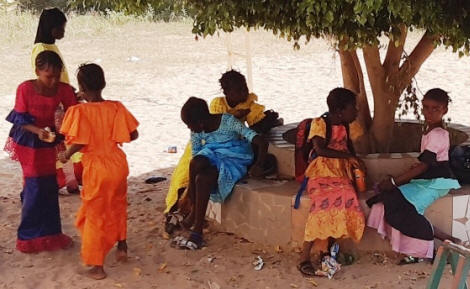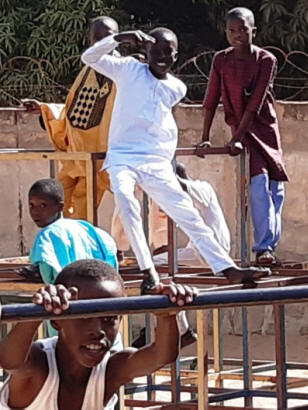 We were delighted to receive a box of stationery from the UK, donated by Jacqui Barlow (delivered by Moneypipe). It's great to have supporters helping us regularly over a long period as Jacqui continues to do. She tells me that she has already started on collection of another box to help. Thank you.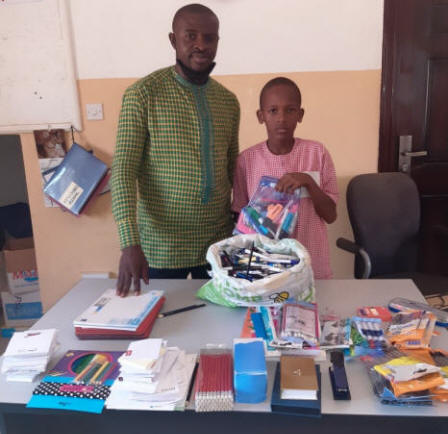 October
School began with registration late in September as planned. Rains were about finished by then. Despite having fewer Skills Training registrations (partly due to late exam results), the remainder of the school is pretty much full.
Nursery 1 with Fatou Ceesay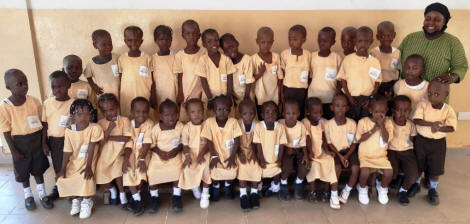 Nursery 2 with Mbacho Jallow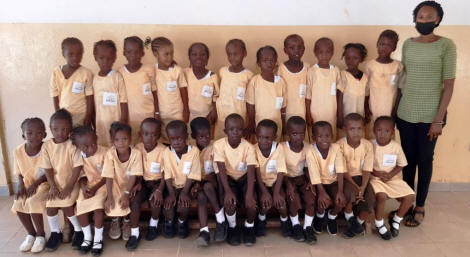 Nursery 3 with Kaddy Jawara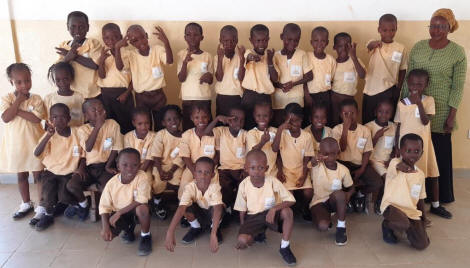 Skills 1 with Fatou Nyassi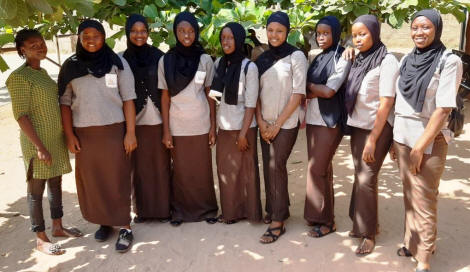 Skills 2 with Saihou Darboe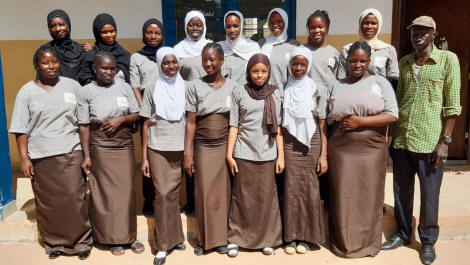 Skills 3 with Bubacarr Jadama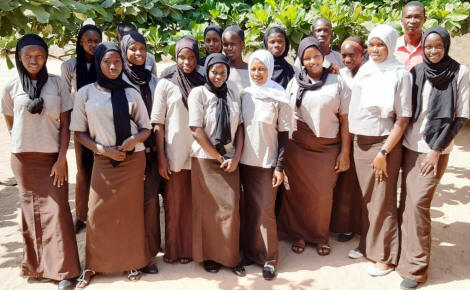 Lower Basic 1 with Mama Nabaneh and Sirra Sambou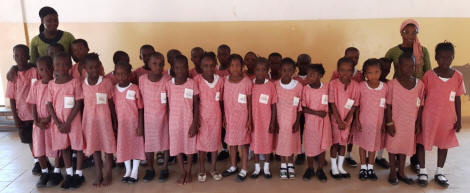 Lower Basic 2 with Fatou Darboe

Lower Basic 3 with Yassin Jammeh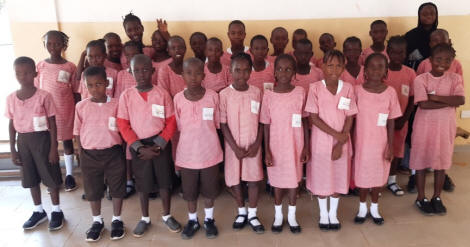 Lower Basic 5 with Bakary Saidy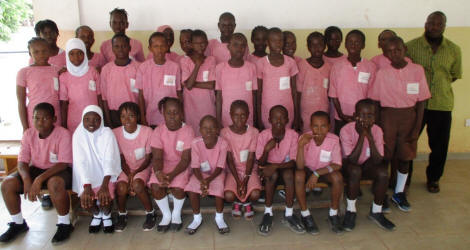 Lower Basic 6 with Omar Gaye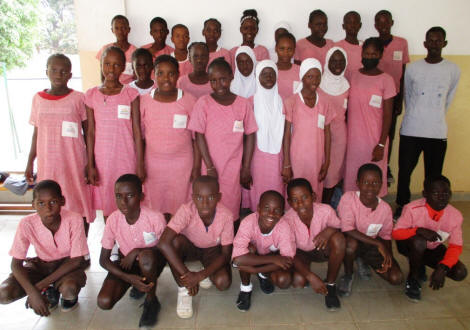 The views around Sunrise don't change, even though the students and pupils do (slowly). Nursery break time with free food each day still gives regular groups of pupils in new yellow uniforms "putting the world to right" or are they talking about lessons?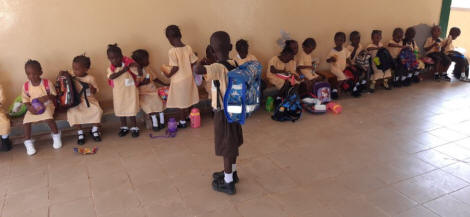 Our best trained skills training students (in Skills 3) have been doing practical work.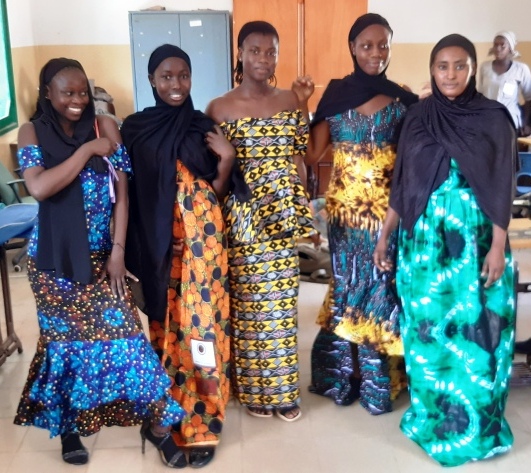 These two boys are showing off the brightly coloured African style shirts that they made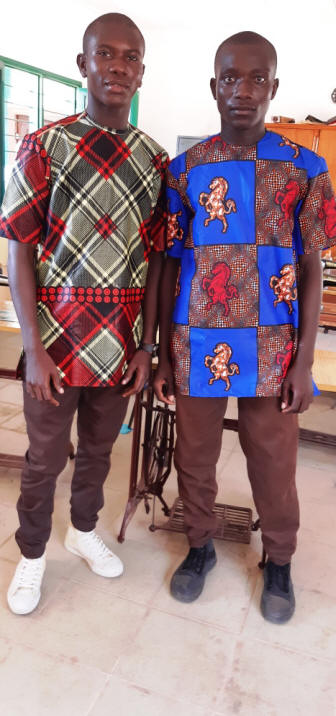 Then they joined some of the girls to pose in wearing garments made as part of their year 3 practical exams.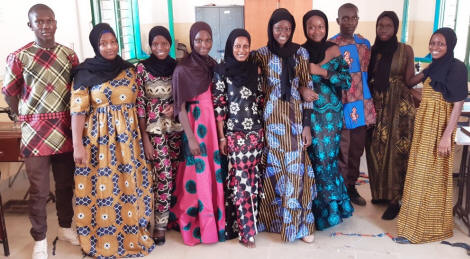 GETS AGM 2021 - Another very different year!
We met again on zoom in early September this year too because the COVID-19 Pandemic prevented our normal social interactions.
Our numbers were down, though we did hear from many supporters who apologised for not being able to attend.
Tony and Sue travelled to Dawn and Paul's house in South Wales to meet up as remaining Trustees.
Helen failed to make the meeting due to power problems in The Gambia. The first AGM Helen has missed for more than 12 years!