Week ending 17th May
The Skills Training 3 Students have all returned from work experience and many have done well with their temporary employers. Musa Badjie had a job with the hotel group, Hypolink Village, based in Kololi and was proud to show us the Certificate of Appreciation that she was awarded at the end of her employment.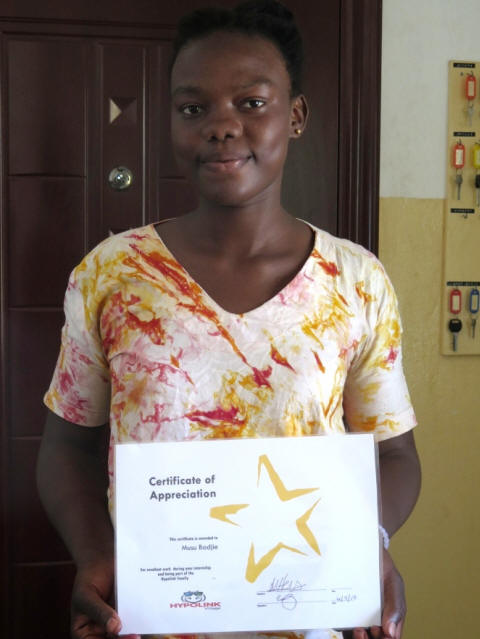 We are delighted that the total number of students being offered the chance of going back to a job after school finishes, is more than 75% this year. A tremendous result for the staff and students. Well done to all!
Another thing that the students in Skills 3 are given in their final term is a fully accredited First Aid Training Course from First Aid 4 Gambia, with trainer, Momodou Laineh, visiting every Thursday to teach a very practical course.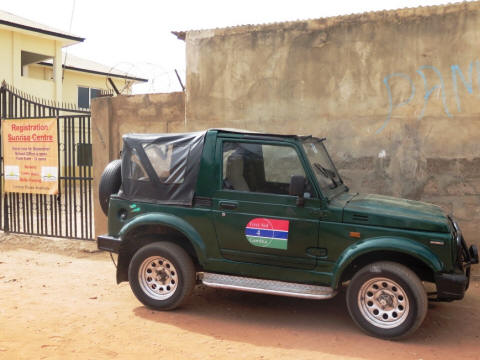 Helen has been meeting sponsored children and parents this week to hand out school fees to externally sponsored children. The picture shows her visitor today was Mariamama Bah's son, Modou-Lamin. He is in Apple Tree International School where he has been struggling to get good results until his mother, a nurse, read him the "riot act" and things started to pick up. He had a better second term, despite being sick for a time.
Our Skills Training Year 3 have been completing some of their practical work this week and posed for the camera in front of the finished Tie and Dye cloth. Very colourful!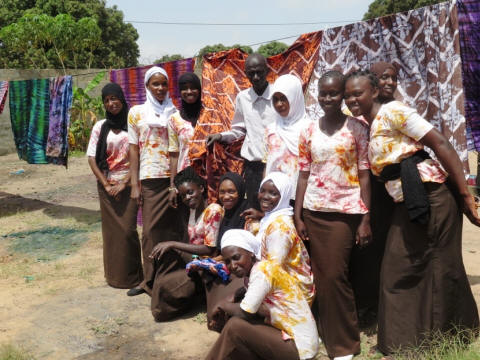 Finally this week, the National Assessment Test exam practice sessions were run for LB3 children, taught this year by Mrs Fatou Cham. They sat a "Mock" exam in the Hall. This was the very first time these 9 year olds had to suffer the tricky process of measured assessment. The final exam taking place in a month's time across all of The Gambia is marked externally .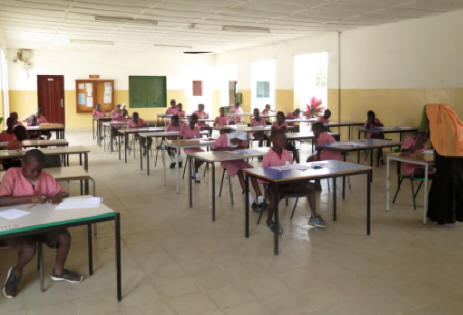 Week ending 10th May
This week we kicked off the Registration process for the new school year, beginning in September 2019. Parents are quite eager to get onto our lists so that they get any places available.
The Caretakers (Foday Jarju pictured) put up our poster everyday so that word can spread that we are open for new children.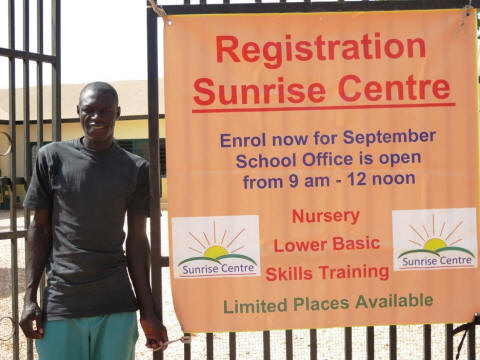 We will have places in a completely new Nursery 1 class and Skills Training Year 1 class but very few places further up the school, so demand is quite high, particularly in LB1 where we always have a waiting list.
Kaddy Darboe (sister of one of our LB teachers, Fatoumatta Darboe) came to register her 2 girls for places in the school with our office administrator Ramatoulie.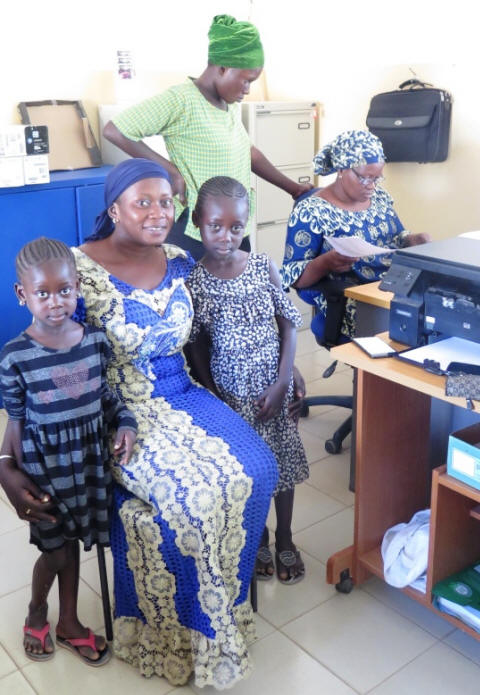 We were pleased to be given tooth brushes and tooth paste by Carole Marshal, who lives near Tony when she comes to The Gambia. The Nursery 1 children were all given either brushes or paste by teacher Kaddy Jawara.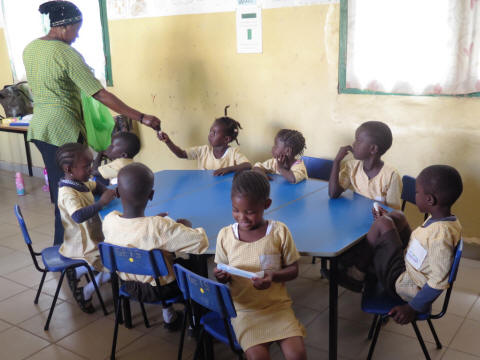 Kora Ceesay is pictured proudly showing off her gift. I hope that all get used in the correct way. Thanks Carole!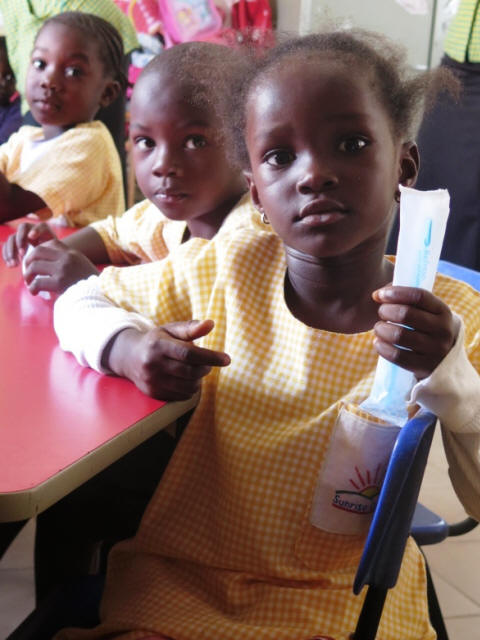 Week ending 3rd May
This is the first week of Term 3, returning after the Easter Holidays. The weather is still relatively cool for the time of year and dry of course, with any rain not expected until late June or even into July.
Our newest employee, Hassanatou Bah, has now been with us for 4 months working as a classroom assistant in LB. Tony snapped a picture of her in the hall at break time, now in her staff uniform.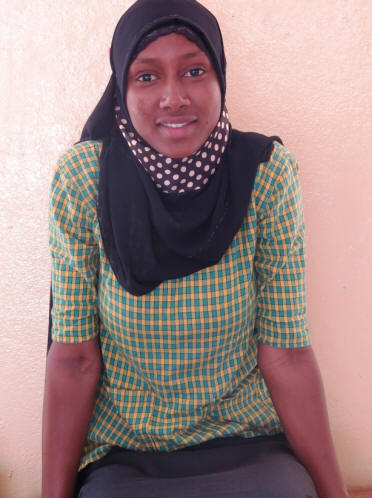 The Nursery children have been doing their usual assemblies again, singing and dancing, guided by teaching staff; Kaddy Jawara and Sally Ceesay. They always seem to enjoy this time, but keeping 90 children in order in an open space like the hall takes great skill and some patience.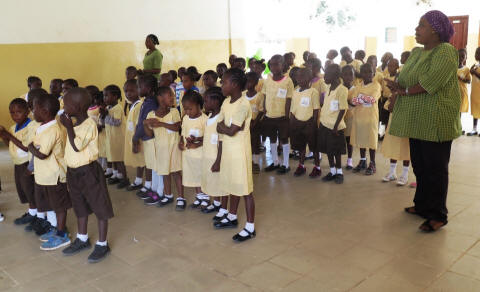 At break time we still have the ladies from the village coming into sell snacks and drinks to complement the sandwiches made in the Sunrise kitchen by Susan, our cook. One of the ladies, Christianna Ogunjirin, a Nigerian, is being hugged by one of the children (Majula Jammeh) who obviously holds her in great affection.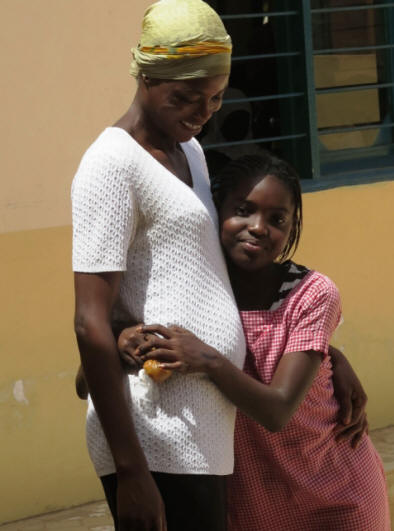 We have been trying to start a tree off to give shade in the playground area for some time now and it is good to see that we've finally been successful with a particular variety of tree. We think this is known as an umbrella tree, for obvious reasons.