Week ending 25th January 2019
This week we were pleased to welcome Wendy and Philip Pulling again as regular visitors to Sunrise. Wendy and Philip sponsor Adama Dem (one of last years' LB6 leavers) and current student, Bubacarr Wally Jeng. They are pictured here, on the right, with Mr Cham (Education Director) and Ramatoulie Ceesay (Admin Assistant).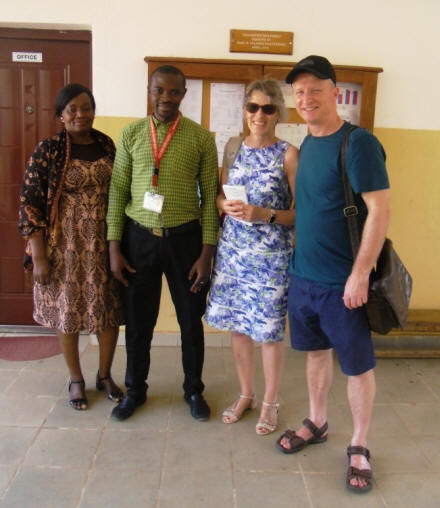 Steve Humphries has been helping us again, clearly enjoying his work! This time painting blackboards with some UK sourced paint. This produces a great finish as the second picture shows. Steve has also helped us capture some great pictures for the blog.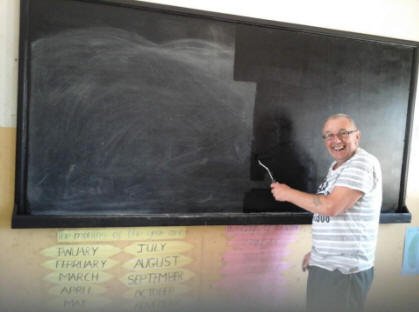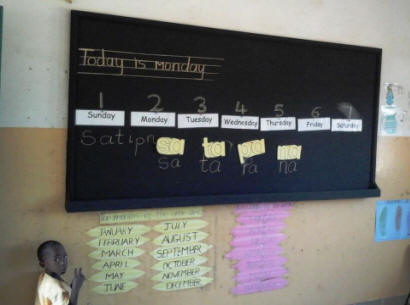 Cookery in the Bantaba, run by Mrs Alimatou Jammeh, was underway when Steve popped in to catch the students preparing to start work and took two pictures.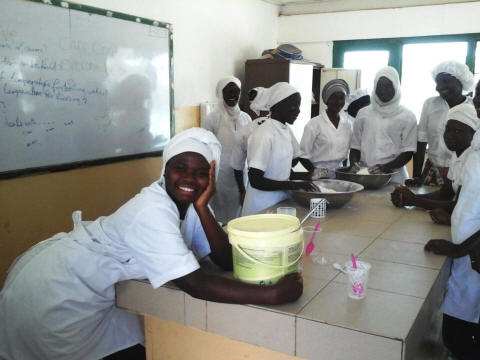 The students often pose when they see a camera, as demonstrated by Mary Harding (far left).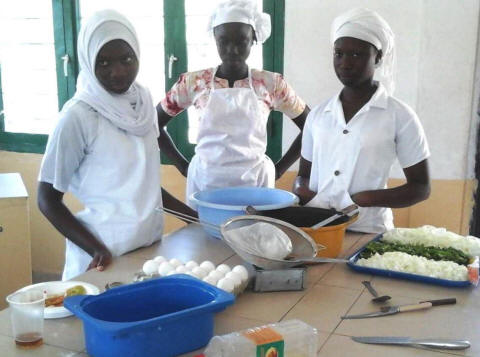 Week ending 18th January 2019
We have managed to find a new Classroom Assistant to join us; Hassanaou Bah (in pink) was appointed to Lower Basic on 7th January. She attended Kotu Senior Secondary School from 2015 – 2018. She sat to the West African Senior School Certificate Examination (WASSCE) and graduated in 2018. This is her first employment.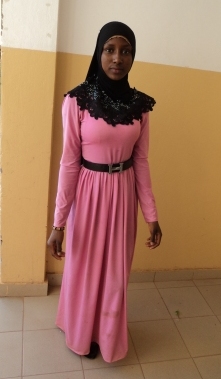 We are also being host to Ya Abie Janko (in patchwork colours). She is a student at Gambia College on their two year primary teacher training diploma programme. She started this programme in September 2017 and hopes to finish in 2019. She is on attachment at Sunrise Centre for T2 from January – April 2019. Our very own Yassin Yammeh (one of our classroom assistant)s is also doing her teaching attachment for the same course at Sunrise and should graduate with her diploma in 2019 too .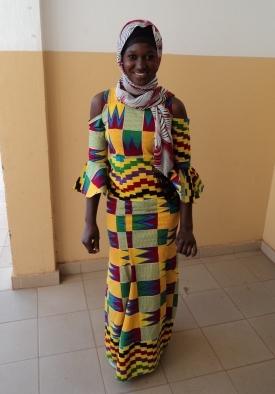 This week we had a planned (and notified) Fire Practice. As it was the first this year, we briefed all the new youngsters to make sure that they understood. The evacuation took 5 minutes.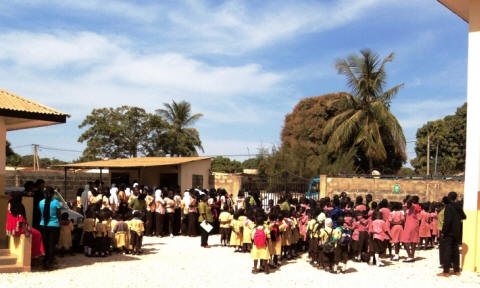 The Sunrise garden has been cleared of weeds and is coming back to life again. The delay this year was because of water shortages on the whole site. Gambia has a much improved electricity supply now but the next challenge seems to be water in some areas, including our part of Bakoteh. The priority for water use has not, therefore, been for the garden.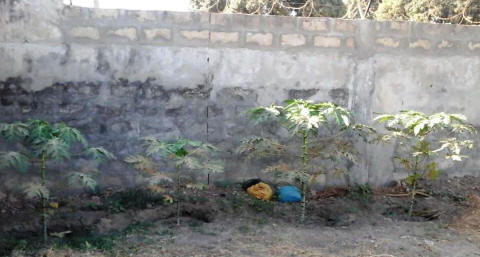 The pictures show the latest crop of cassava that been planted and beds prepared for other vegetables.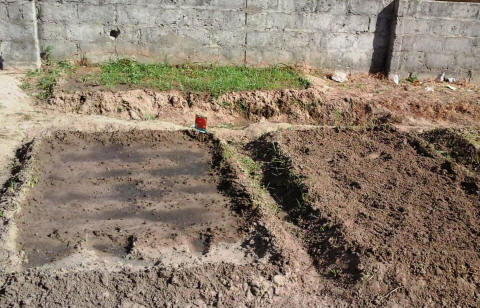 Week ending 11th January 2019
Happy New Year!
This is the start of our second term of the academic year in the Sunrise Centre and the middle of the tourist season now. We had regular visitors to Sunrise on Thursday (from L to R) Joyce Derry, Jane Derry, Tracy Hill and Christopher Hill. They brought lots of resources, thank you.
Jane, Tracy & Christopher sponsor students at Sunrise and Christopher is our Facebook administrator.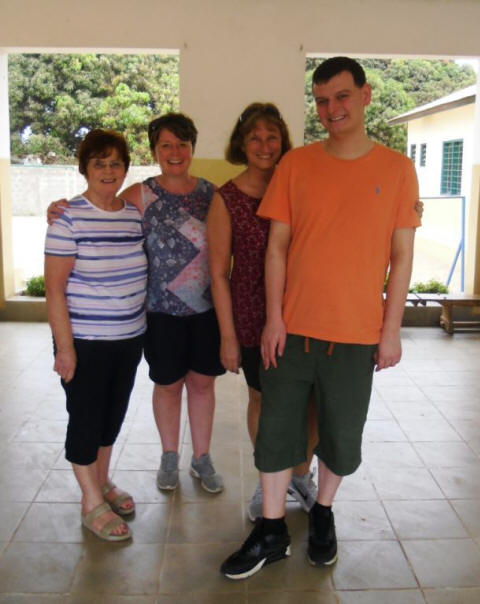 Also we were delighted to welcome Chris & Steve Humphries back to The Gambia this week. They are planning to come regularly to volunteer again at Sunrise. Thanks again!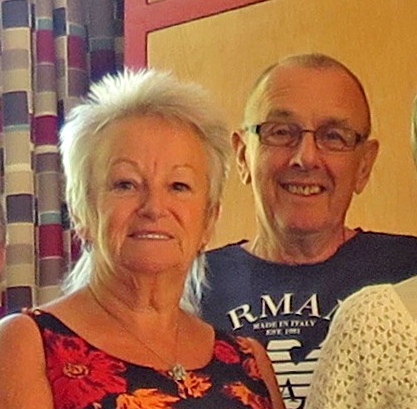 Nearly every night at this time of year we see beautiful sunsets down at the beach. These are very short but spectacular when the air is dusty because the sun sets really quickly in the tropics.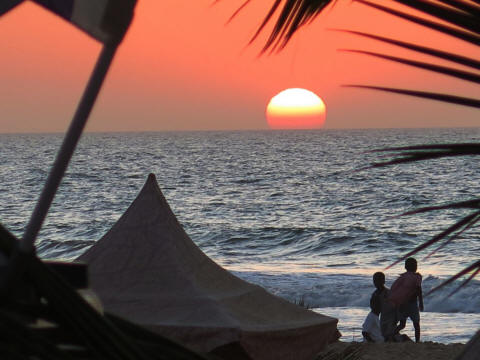 Our Cookery Teacher, Mrs Alimatou Jammeh, is seen here with some of the lads in Skills training.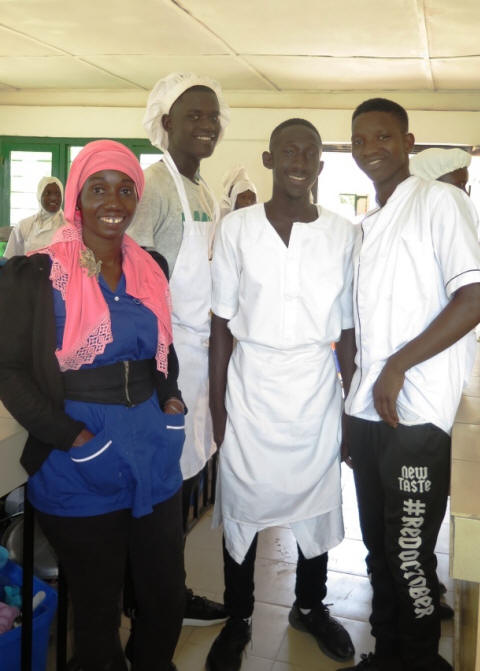 She finally received here Diploma certificate from Gambia Tourism and Hospitality Institute. Although she knew that she had passed the course last year, she has had to wait patiently for the proof, now being proudly exhibited.