Week ending 6th October
This week Skills 3 have had practical assessments on work using beads. Below you can see one using beads to make a decoration on a garment she has sewn whilst another is putting bead decoration onto a flip flop sole to make a sandal.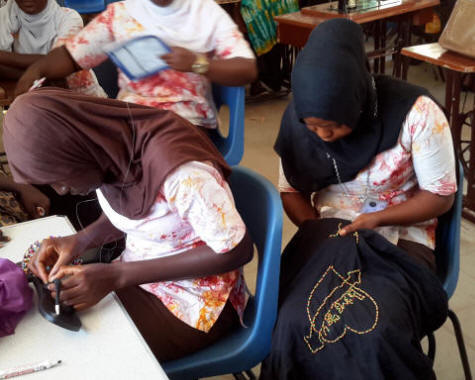 These two students are using tiny beads to make a framed representation of the Sunrise badge, I think this will be quite a long task!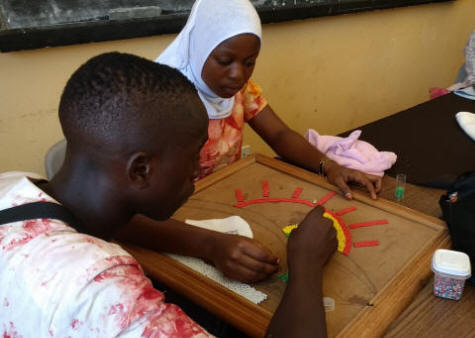 You can see the different ways they used beads imaginatively to create their project for this assessment, displayed on a table in their classroom by the first to finish their work.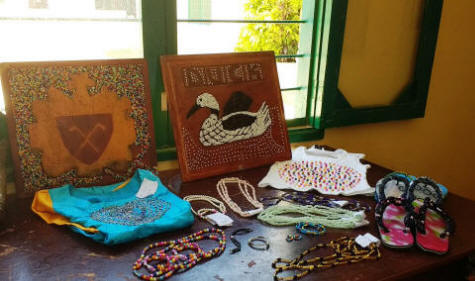 Mr Darboe has just bought some wooden stamps for his classes to use when making batik patterns - we look forward to seeing some interesting results!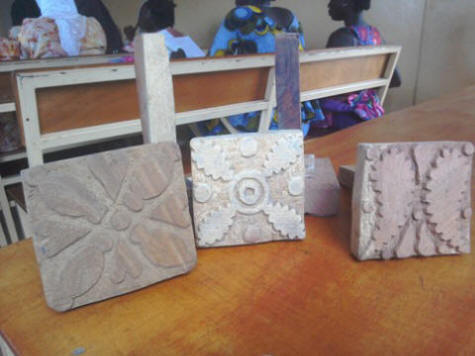 As our present Grade 6, most of whom started with us in Nursery 1, progressed through the Lower Basic school they started a new grade using the next spare classroom available. As this term they have now reached Grade 6 we have all six grades in our Lower Basic school, so no longer have a spare classroom. A spare classroom had always been used by Paul Badjan, for teaching the small number of Christian children in each class, whilst the Islamic teacher taught the rest of the class in their own classroom. Paul's new teaching area is the old office, now with shelves for storing sewing material etc. We cannot make this area all dusty with a chalk board, so a whiteboard has been purchased and will be hung on the wall opposite the shelves.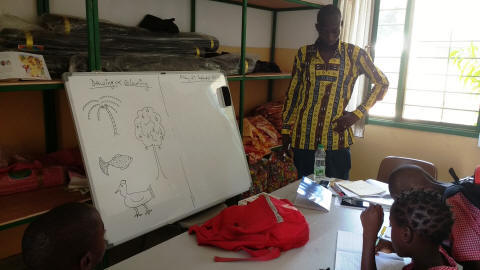 Our nursery children are looking smart in their new uniform as they line up after their breakfast break.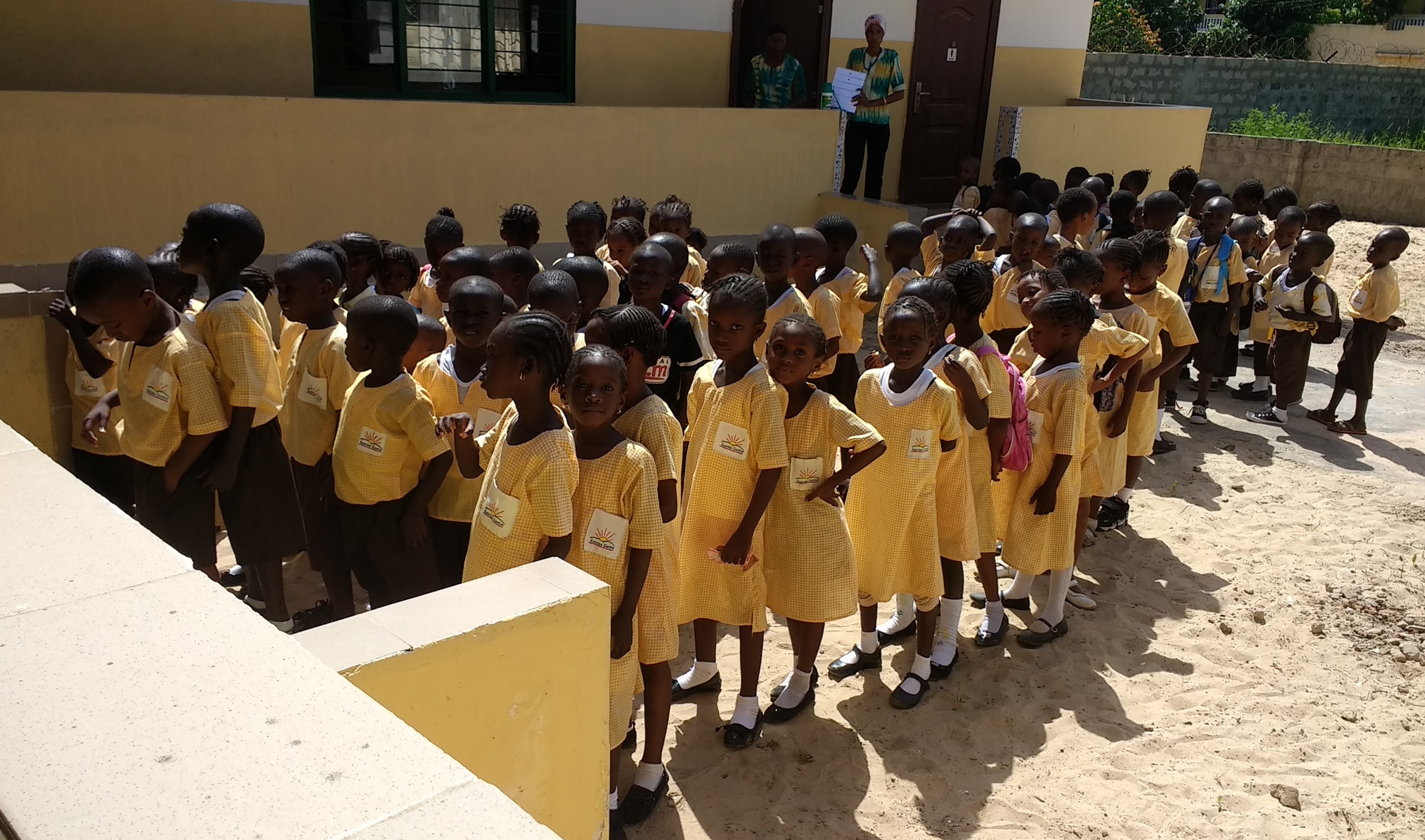 All the Skills and Lower Basic classes are now enjoying using the library every week. They are timetabled to come in small groups and Sainabou, our library assistant, hears them read, helping any who find reading difficult. Skills 2 are using the library in this photo.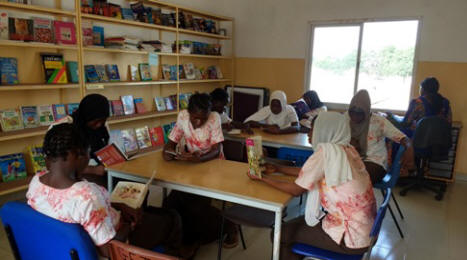 This week Ruth had to go back to the UK after spending three weeks helping at Sunrise. She has been a great help in the office with all the administration, printing and sorting out computer problems, then also helping with hearing children read when school started. Thank you, Ruth!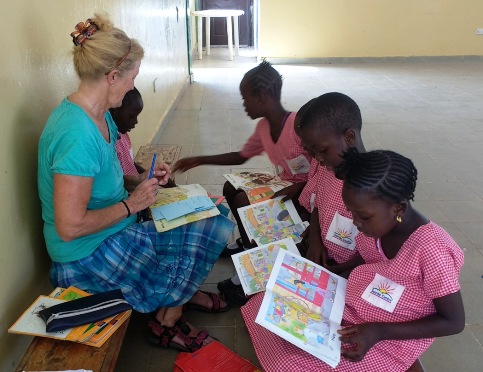 Week ending 29th September
The end of the first week of the new academic year! Parents who came to Sunrise this week wanting to register their child, had to be told that they had left it too late, there were no more places available and we already had a waiting list for lower basic and nursery places.
New school year, new uniform. The nursery now have yellow check material, the boys brown trousers are the same as before.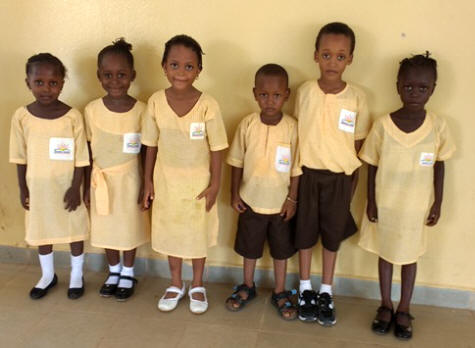 The Lower Basic now have a small red check -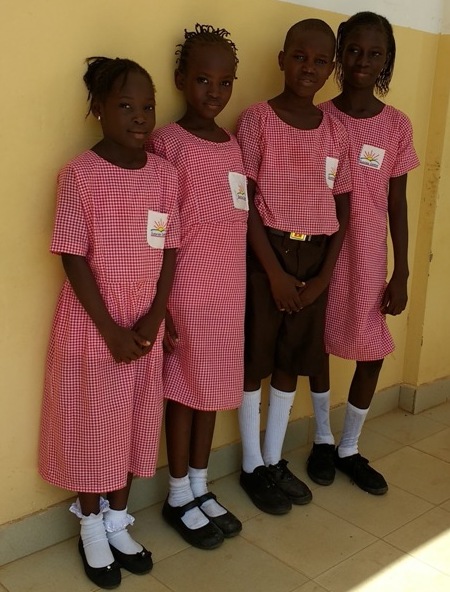 The skills uniform remains the same - they learn to make the tie and die top and the skirt or trousers during their lessons here.
The class below are our new Skills intake this year - they look happy to be at Sunrise!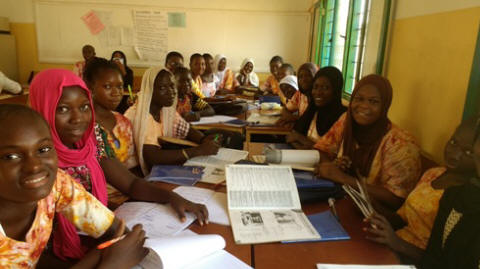 We have a new teacher starting with us this year, Mr Williams. He is teaching Lower Basic Grade 1 and here he is below after school, sharpening pencils ready for the next day.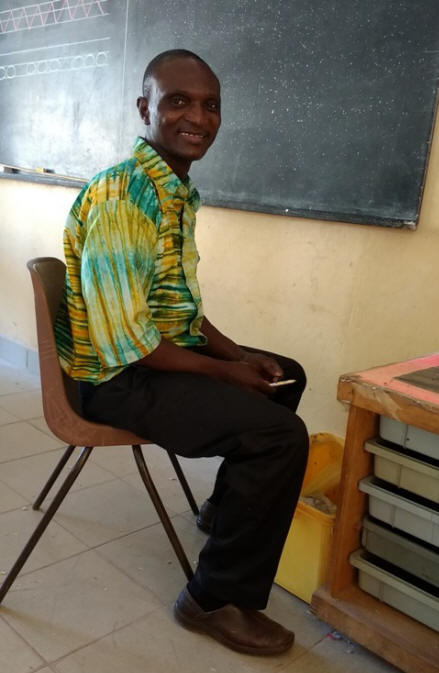 Our new nursery children have settled down well and certainly seem to be enjoying school!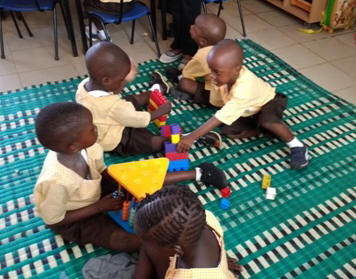 These children are only three so are learning through play,though this week they have also been learning to recognise red, blue and yellow and to make the ssss sound of a snake when then see the letter 's'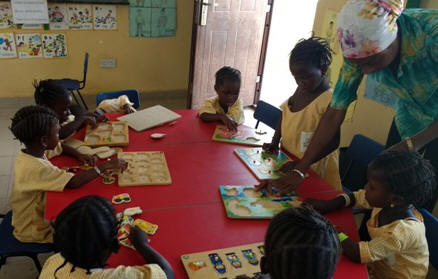 Some more N1 children busy matching the shapes to the holes in these wooden boards, here helped by Mbacho, our N1 teaching assistant. If it doesn't fit first time some of them try to hammer then into the hole with their fist!
AGM 2nd September 2017
This year our AGM was held in Driffield, our thanks go to Angela Longoni-Sarr for arranging the venue, complete with screen and projector to enable us to illustrate the progress of the charity throughout the past year.
Our AGMs are held in different places every year to enable supporters in different areas to meet the main officials and supporters of the charity. If you would like the AGM to be in your area next year please contact us
We always provide a buffet lunch before the meeting as we know some people travel many miles to attend and this year Sue took a photo of some of the food waiting for hungry travellers.
At this AGM we were very happy to welcome a new trustee for GETS - Pat Taylor, who together with her husband, have been visiting Sunrise since 2014 and sponsor two children there. You can read more about Pat here